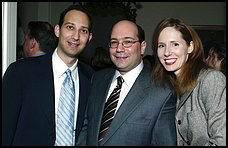 Two-thirds of the Troyfecta: Tevi and Gil, with Juleanna Glover Weiss. (Neshan H. Naltchayan)
The three ambitious Republican brothers known as "the Troy-ka" are on a roll: Tevi Troy, 37, who worked on the 2004 campaign prepping President Bush on debates, started his job this week at the White House as a domestic policy adviser. Gil Troy, 43, a professor at McGill University, was feted Monday night at the home of lobbyist-socialite Juleanna Glover Weiss for his new book, "Morning in America: How Ronald Reagan Invented the 1980s." And the oldest brother, Dan, 45, the Food and Drug Administration's outgoing chief counsel, has returned to private practice at megafirm Sidley Austin Brown & Wood, reportedly with a salary in the seven figures.
The Troy Boys' parents -- Elaine and Bernard Troy -- are Democrats from Queens. Mom remains perplexed how her sons ended up as staunch Republicans. Ever the Jewish mother, she was overheard to say at the book party: "I'm just glad they all have jobs." Oy!
CORRECTION:
Gil Troy emphatically declares that he is not now, nor has he ever been, a member of the Republican Party... and his two brothers sadly concur...